Have you ever wanted to take a class to fine-tune your skills? Or maybe there was a hobby you had an interest in, but never had the time to learn? In this review, we put Skillshare, Udemy, and Lynda head-to-head and weight the pros and cons.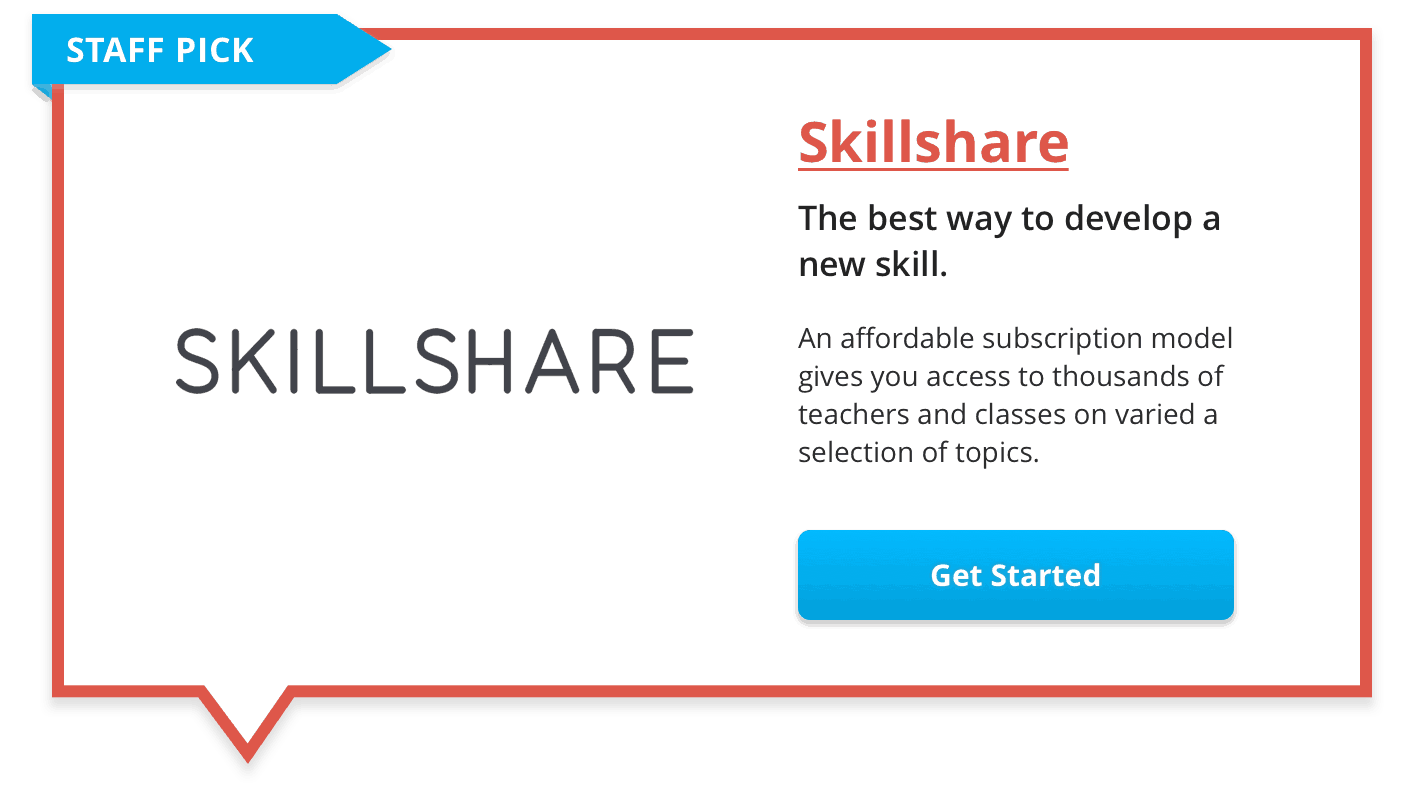 Table of Contents
The Basics
Who'll Use It?
How Much Is Skillshare?
The Key Features
Skillshare vs. Udemy
Lynda vs. Skillshare
Final Thought
Whether you want to learn a new skill to make you more marketable, or learning something on your bucket list, Skillshare has the class for you. It has classes in a variety of disciplines taught by regular everyday people like you.
So dive into a curriculum and come up with a new skill. You have nothing to lose and everything to learn.
The Basics
What is Skillshare? It's a hub of over 23,000 online classes. The categories range from Graphic Design to Writing and most things in between.
You can stream classes while you're on the go. Pick up the Skillshare app from the Apple or Google App Store.
Who'll Use It?
Anyone who wants to learn something new can find something useful on Skillshare. These aren't your typical university courses. These classes teach you real knowledge by experts in the field who know what you need to know to succeed. Most classes can be completed in a few hours.
You don't have to go it alone either. Make it a team activity with "Skillshare for Teams." Take your entire team to school so that you are all on the same page with new techniques for better cohesiveness and productivity.
How Much Is Skillshare?
You may be wondering how much these classes will cost you. The last thing you want is another student loan. Don't worry. Skillshare isn't like that.
There are 3 price tiers for classes: free, premium, and team plans. For those of you who simply want to brush up on quick skills, Skillshare offers thousands of free classes. These classes are typically only an hour or less, but they are packed with information.
Premium
If you would like to learn something more in-depth, Skillshare Premium may be the one for you. For only $15 a month you have unlimited access to the over 23,000 classes Skillshare has to offer. You may also choose to be billed annually instead for $99 a year.
In addition, Premium users also receive extra perks like:
Unlimited access to all classes
Offline access
No ads
Fees help pay the teachers
A portion of fees goes towards scholarships
Additional discounts on benefits and services
Furthermore, receive your first month free when you sign up for Skillshare Premium. You get the free month for either monthly or annual billing, so don't worry. Simply register for a new account or sign in to your existing one using this link.
Skillshare Free Trial [Special 2 Month Offer]
Skillshare's usually $10 a month, but because you're a Daily Logo Challenge member you can get a 60-day free trial by clicking here.
Team Plan
Alternatively, if you don't want to go it alone, you can also get your entire team on-board for some new education. Team Plans start at $99 per user annually. But the exact cost may depend on what you and the sales team at Skillshare agree to.
Signing up for a Team Plan also yields additional perks such as:
Access to over 16,000 classes
Usage progress reports for team members
Admin mode
Volume discount prices
Offline access
The Key Features
Now that you know how much Skillshare costs, you may want to know more about the classes.
Teachers
The teachers are everyday people like you. People with a passion for their industry and experts in their field. While anyone can sign up to be a teacher, the proof is in the number of students each one has. Some teachers have over 30,000 students from all around the world at any given time. This is teaching the way it was meant to be: from mentor to student.
The Best Skillshare Classes
Skillshare offers a variety of classes across 6 different field categories. Classes may change over time. So if you see one that piques your interest, be sure to sign up as soon as you can.
Check out some of the classes you may find on Skillshare:
Design
Gridding with the Golden Ratio in Logo Design
True Grit: Handmade Textures & Halftones for Designers and Illustrators
Intro to Surface Pattern Design: Learn Adobe Illustrator
Business
Presentation Essentials: How to Share Ideas that Inspire Action
Context is Key: Social Media Strategy in a Noisy Online World
Technology
Introduction to SEO: Tactics and Strategy for Entrepreneurs
Programming Graphics I: Introduction to Generative Art
Photography
Street Photography: Capture the Life of Your City
Mobile Photography Basics for Instagram Success
Photo Processing in Adobe Camera Raw: Getting the Cinematic
Entrepreneurship
The Staples of Branding: Building a Company from Purpose
Productivity Habits That Stick: Using Time Theming
Film
DSLR Camera Essentials: Film & Edit Stunning Timelapse
iPhone Video Essentials: Creating, Shooting, Editing
Writing
Creative Nonfiction: Write Truth with Style
The Writer's Toolkit: 6 Steps to a Successful Writing Habit
Lifestyle
Knife Skills: A Mini Class to Chop Like a Chef
Creating a Perfect Morning Routine
How to Learn a Language in 100 Days
In addition, any class you sign up for also has assigned projects so that you can practice your new skills and get feedback from your peers. What better way to learn than with the support of your community?
Furthermore, you don't have to carve out a specific time of the day to attend Skillshare classes. If the only time you have is on the Subway, use the mobile app and attend class during rush hour commute. Skillshare gives you the freedom to take the classes you want when you have time for them.
Workshops
Skillshare workshops are a set of classes set to a designated schedule by a teacher or Skillshare team. They are on set topics such as "Getting Started with Calligraphy." The same students attend throughout the workshop, giving you a chance to build rapport with other students as you learn.
Expect to attend 2-3 classes for any given workshop topic. You may also be expected to finish projects. Some workshops are free to attend; therefore, you may not need a Premium membership. However, if some classes in the set are Premium classes you may need to upgrade your membership to attend. Additionally, some teachers or the Skillshare team may ask for a one-time fee prior to starting a workshop. But generally, many of the workshops are free to attend.
Keep in mind, though, that workshops often have capacity caps. So once the class reaches maximum capacity you won't be able to enroll in the workshop anymore.
Pros
thousands of different classes and categories
class projects with peer input
classes taught by experts in the field
offline access with Premium membership
access classes anywhere with mobile app
networking opportunities
Cons
classes may be for a limited time
relatively limited class access with free membership
no certifications available
Skillshare Comparisons
There are other platforms of online classes out there. So how does Skillshare stack up to the competition? Take a look at the comparisons below and decide for yourself.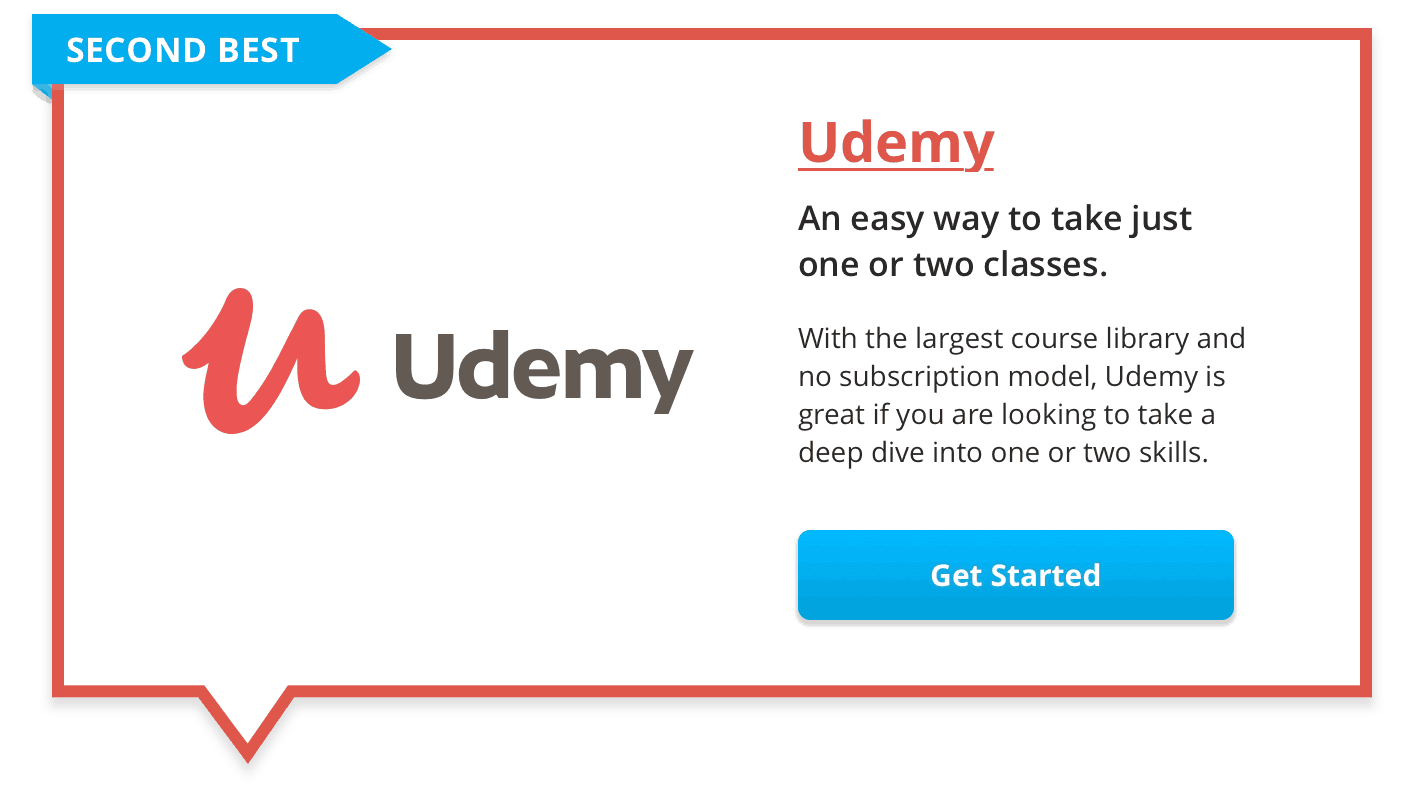 Skillshare vs. Udemy
One of the first differences you may notice between Skillshare and Udemy is size. Think of Skillshare as a boutique learning space. It's relatively small and intimate. And there is a bunch of payment options that make it appealing to learners in most financial situations.
Udemy, on the other hand, is that commercial giant whose presence dominates the virtual education world. It has 80,000 class offerings at any given time. And the class catalog is noticeably more robust than Skillshare. However, you will be paying a premium for it.
On average, you are looking at $200 per class with Udemy. There are no subscription plans or incentives/loyalty programs. You pay per class.
But for the price, you receive certification for any approved course you take. Although this is a Skillshare review, this is one thing Udemy has over them.
Don't worry about the price tag for Udemy classes, if you do decide to go with them. Udemy offers sales and discounts all the time. Just wait for the right one that coincides with the marketplace class you are waiting for.
Additionally, you have lifetime access to any course that you buy. That means as long as your account is in good standing with Udemy, and the course is still being offered, you can access it. Even after you've completed it.
Want to know the difference between Skillshare and Udemy for team learning? Both offer great class options for growing your team's education. However, Udemy seems to be in a better position to offer more options and a pricing plan that can accommodate bigger teams. Once again, though, you will be paying more for these extras.
Udemy's Team Plan starts at $240 per user for the year. You need a minimum of 5 on the team. But you can have a maximum of 20 members. This price is much higher than Skillshare's $99 per user annual fee. You also don't receive the same perks as Skillshare's Team Plan, such as progress reports and admin mode.
If you plan on enrolling your entire department, or at least 21 users or more, Udemy has an Enterprise plan. Skillshare doesn't have an equivalent plan, although you can contact them directly to negotiate a price for a large team.
Lastly, Udemy offers classes localized in 13 different languages. So team members or students from around the world can participate in a class without worrying about the language barrier. Skillshare, on the other hand, doesn't offer additional language support. Their classes are offered in English.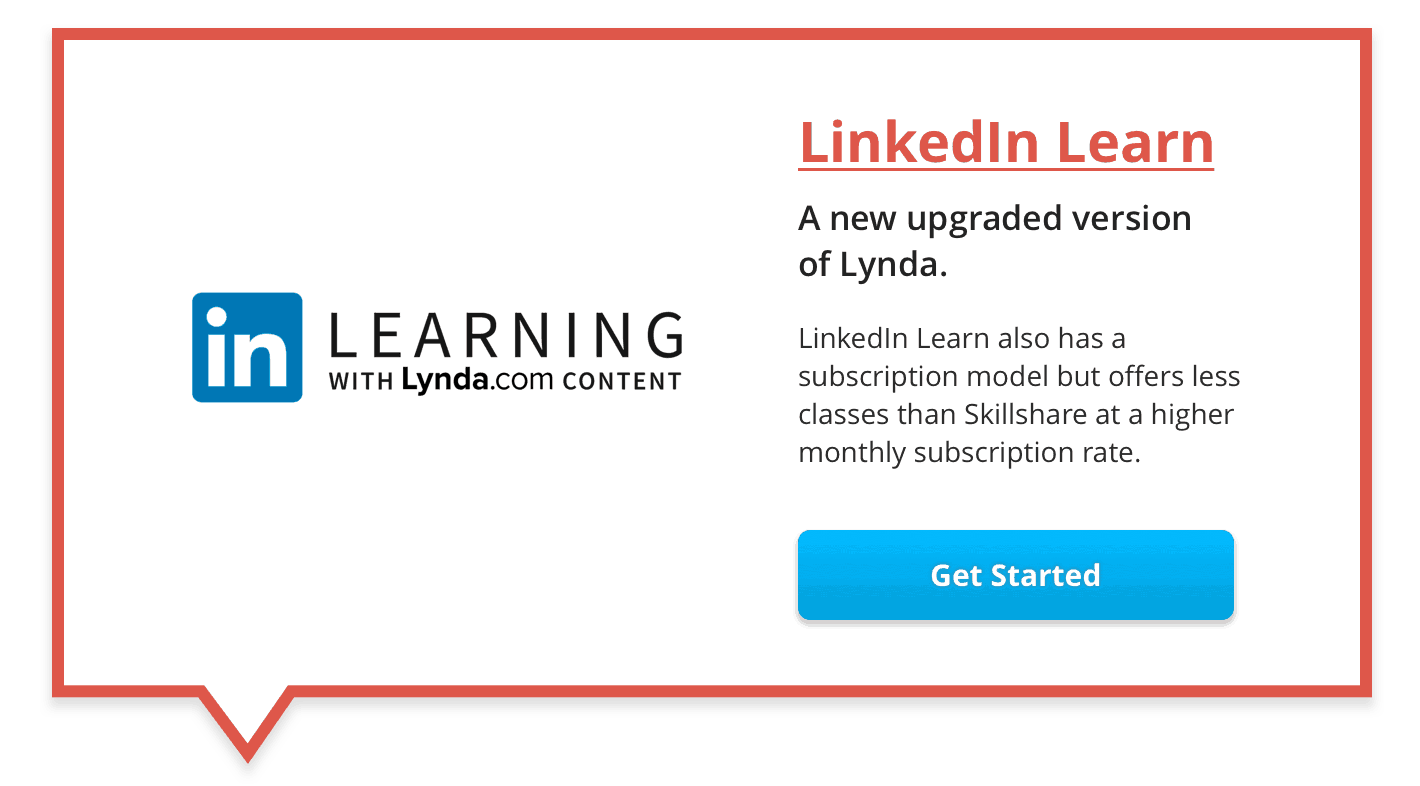 Skillshare vs. Lynda (Now Called LinkedIn Learn)
Another online learning platform you may have heard of is Lynda. Recently LinkedIn acquired Lynda and the two are now being combined into a new platform called LinkedIn Learn by Lynda. You receive unlimited class access when you subscribe to one of the plans.
The monthly plan starts at $29.99 a month, or you can sign up for the annual subscription for $24.99 per month. Both plans start you off with a free month. But you are free to cancel your subscription at any time.
What do you get with a Lynda subscription? First, you receive access to over 10,000 courses in a variety of categories. The course catalog isn't as robust as Skillshare's offerings, but you do receive a certificate for completing any Lynda course.
In addition, you can assess your course progress via quizzes and projects. While Lynda mainly uses projects to practice new skills, Skillshare also uses their course projects as a way to gain peer feedback and input. Lynda's assessment activities are for your own use only.
Peer-to-peer feedback and communication is not as encouraged on Lynda as it is on Skillshare. So, if you want to make connections while in class, Lynda may not be a suitable option for you.
Furthermore, using LinkedIn's Premium Career subscription gives you access to the networking site's exclusive features like InMail credits to reach out to recruiters and hiring managers, salary and job insights, see who's viewed your profile, and being a Featured Applicant on your job hunt.
Lynda appears to be focused on students who want to brush up on their skills to enter the job market. The top class categories include:
Developer
Business
Design
Web
Photography
Marketing
However, if you are looking for a class to supplement your hobby or lifestyle, this may not be the one for you.
Like the LinkedIn website, course offerings and premium perks are tailored towards people who are actively in the job market. While you don't necessarily need to be a job seeker to take their classes, those who are may see more benefit from their perks.
Final Thought
Is Skillshare worth it? That may depend on what you're looking for in an online education platform. Skillshare offers an intimate and personalized class setting for online classes. It offers a variety of classes from professional to personal enrichment.
In addition, Skillshare also has different payment options, so no matter your financial situation there may be a solution for you. When you do sign up, don't forget to apply your Skillshare coupon for extra savings.
If you want a bigger selection and don't mind paying a higher price for education, Udemy is also a good option. And anyone looking to brush-up skills for the job market may want to check out Lynda. Both Udemy and Lynda offer certifications for applicable classes, too.
But if you prefer a boutique setting with a real connection between teacher and peers, Skillshare may be the one for you. While they don't currently offer certifications for classes, Skillshare makes up for it with real interactions in the classroom community.
Lastly, if you don't need a certificate to tell the world that you learned a new skill let Skillshare be the one to introduce you to one.