All creative freelancers know that actually doing their work isn't the hard part. In fact, that's where you have the most fun. It's keeping track of everything that's such a hassle. Every project requires proposals, contracts, and invoices. You spend as much time on creating (and chasing) those documents as you do on the actual work. That's just the way it is, right?
Not according to Hello Bonsai.
Hello Bonsai Promises Freelancing on Autopilot.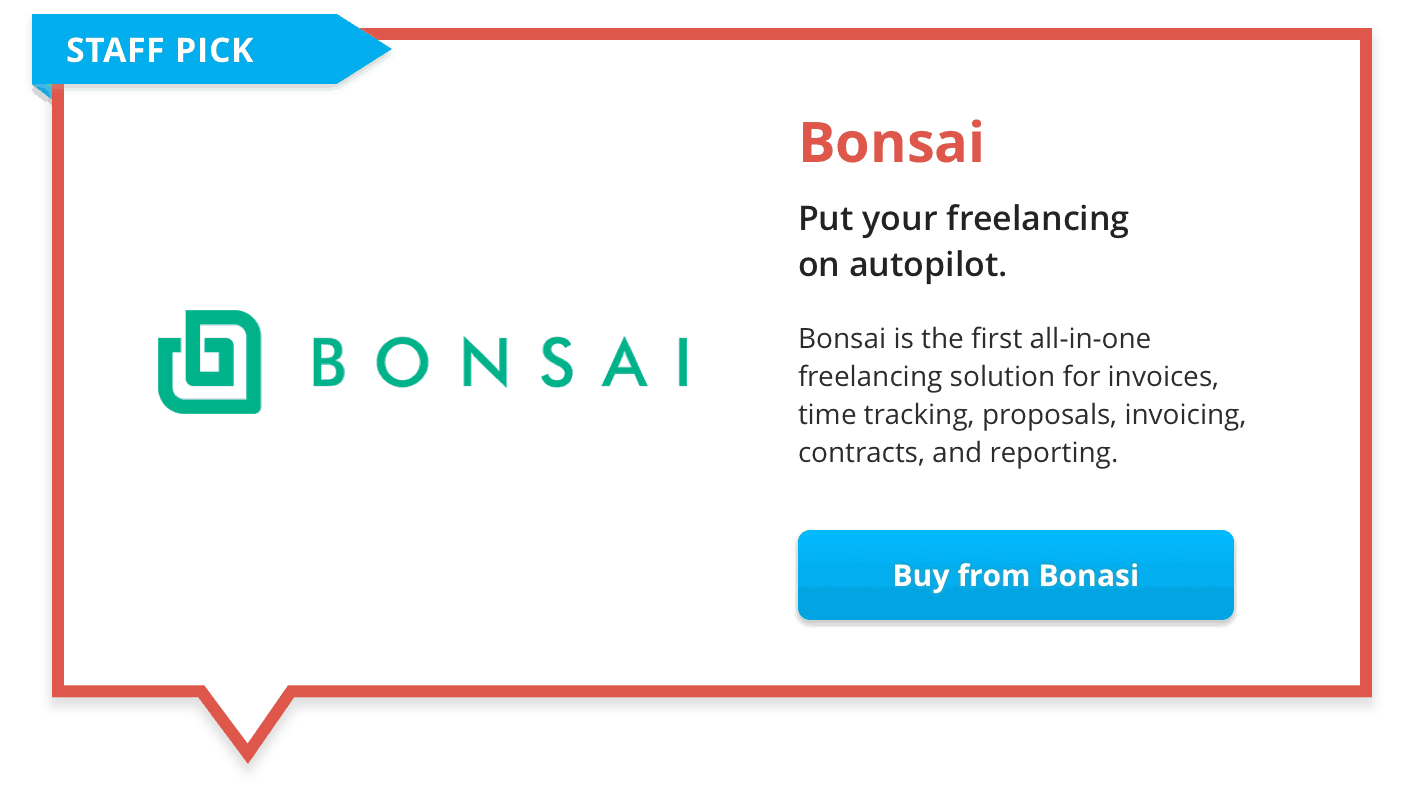 Bonsai is an online platform that promises to help freelancers streamline their contracting and invoicing processes. They claim that platform, users get paid 13 days quicker than those going the manual route. Plus, they don't deal with as many late payments.
But is it true?
That's what we aim to find out with this review. We've completed a couple of projects using the platform so we can tell you if it delivers on its promises.
Table of Contents
The Basics
Who'll Use It?
What Does It Cost?
The Key Features
Pros
Cons
Final Thoughts
The Basics
So, how does Hello Bonsai work?
It's essentially a way for you to manage multiple projects at once, without getting things mixed up. The key lies in the automation. The platform automatically generates legally-binding contracts and invoices. Moreover, it offers notifications for deadlines and acts as a general base for all of your important documents.
Who'll Use It?
Any freelancers who take on multiple projects at the same time may love what Hello Bonsai has to offer. It helps you to deal with all of the admin work that gets in the way of your actual job.
Furthermore, it's great for those who are just starting out. It can save you tons of time on research, as everything you need for contracts and invoicing is on the platform.
What Does It Cost?
You don't have to commit to Hello Bonsai straight away. The platform offers new users a free limited version so they can get used to it. Of course, you don't get much from this version of the platform. You can run one project at a time, up to a maximum of three per year.
That's hardly enough for a busy freelancer, but it's fine for getting to grips with the platform. You also don't get any of the branding and reporting functionality on the free trial. As for the paid plans, you have a choice of "Plus" and "Premium".
The "Plus" lets you work with the branding and reporting tools on as many projects as you like. You also get access to Hello Bonsai's support team, as well as the key features we'll look at in more depth later on. This "Plus" plan comes with a 14-day free trial, after which you make rolling monthly payments of $24.
The "Premium" package ups that monthly price to $34, but it gives you access to some more advanced features. As well as dedicated product support, you can also invite multiple people onto the platform with the "Premium" package. Moreover, it helps you to manage any work that you've subcontracted to other people.
We think that the "Plus" plan offers more than enough for most individual freelancers. "Premium" only comes into its own if you have a team of people working with you.
As for "Limited"? You'll probably use it to get a taster before you try the real thing. However, it may do the job if you only have one or two clients.
You can give it a try here.
The Key Features
Those are the basics. But you need to know how the platform actually works.
Logging in for the first time leads you to some simple questions. The platform asks what type of work you do, with options ranging from writing and marketing through to finance and design. There's a handy "Other" option if you're work doesn't fit into one of the seven available categories.
After a few more questions about the nature of your work, you end up at a central dashboard.
Here, you can do the following:
Create a new proposal;
Draft a contract;
Create an invoice;
Track your time;
And more.
Upon creating your first project, the dashboard morphs into something more complex. It can be a little confusing at first, but a little experimentation helps here. The more detailed dashboard shows information about the selected project and offers you several ways to manage what you're doing.
We're going to keep things simple for now and look at the four main features individually. After that, we'll let you know if Hello Bonsai brings them all together into a good package.
Creating Proposals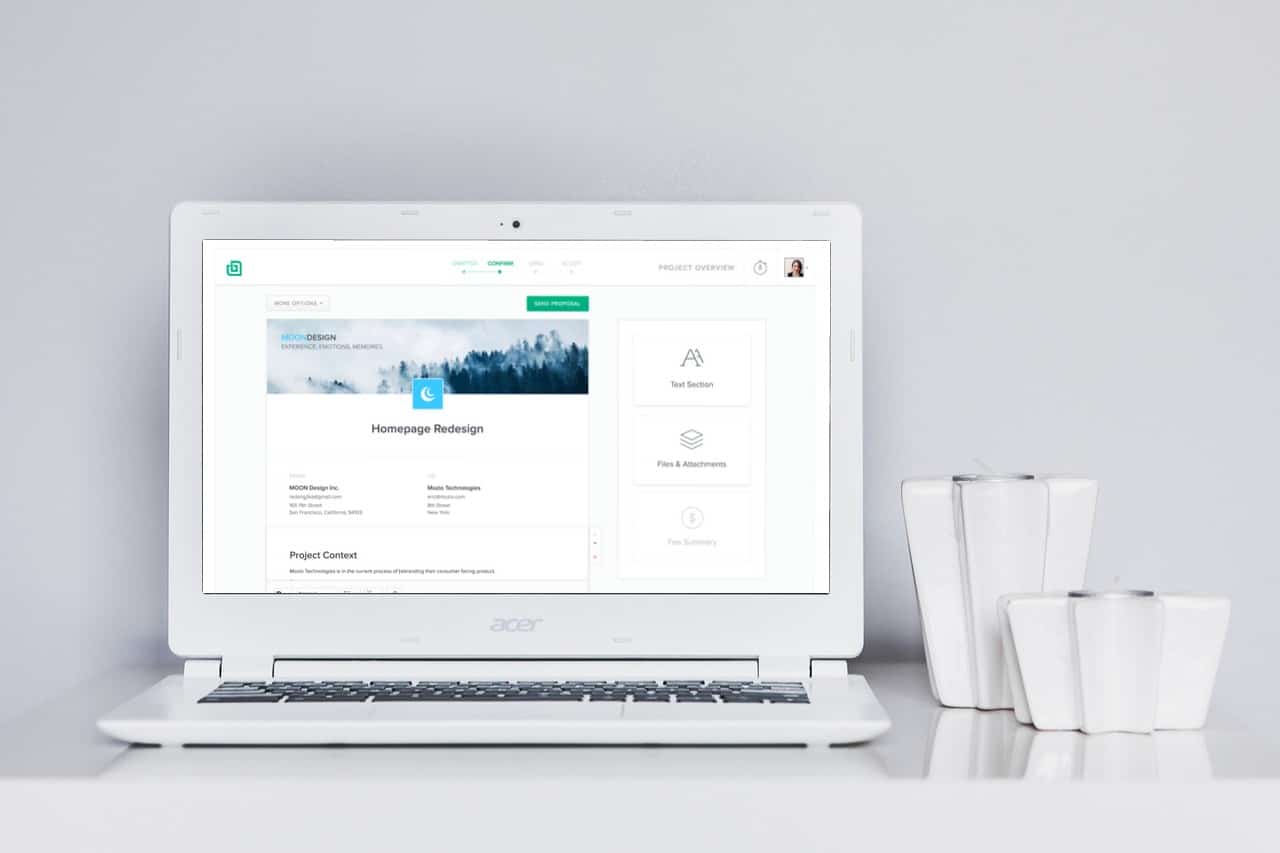 The proposals option brings up a simple form that asks for the Client and Proposal name. If you don't have any clients in the system yet, you can add one directly using the drop-down column.
You also get a choice of different proposal types, ranging from "Generic" through to proposals suited to different industries. This is a nice feature that allows some level of customization in the proposal.
Make your choices and you hit a template. This breaks down into several sections, including a project overview, the fee structure, and a "Why Us" section. You can rename each section and adjust its position on the proposal with the click of a button.
There's also some extra options for attaching files and additional text, allowing you to build from the template in your own style. Once finished, you can see a preview, download it as a PDF, or send it straight to the client's email account.
It's simple and helps you to draft proposals in a matter of minutes. You can even shoot quick automated reminders to your clients with the press of a button if they don't respond to the initial proposal.
Drafting Contracts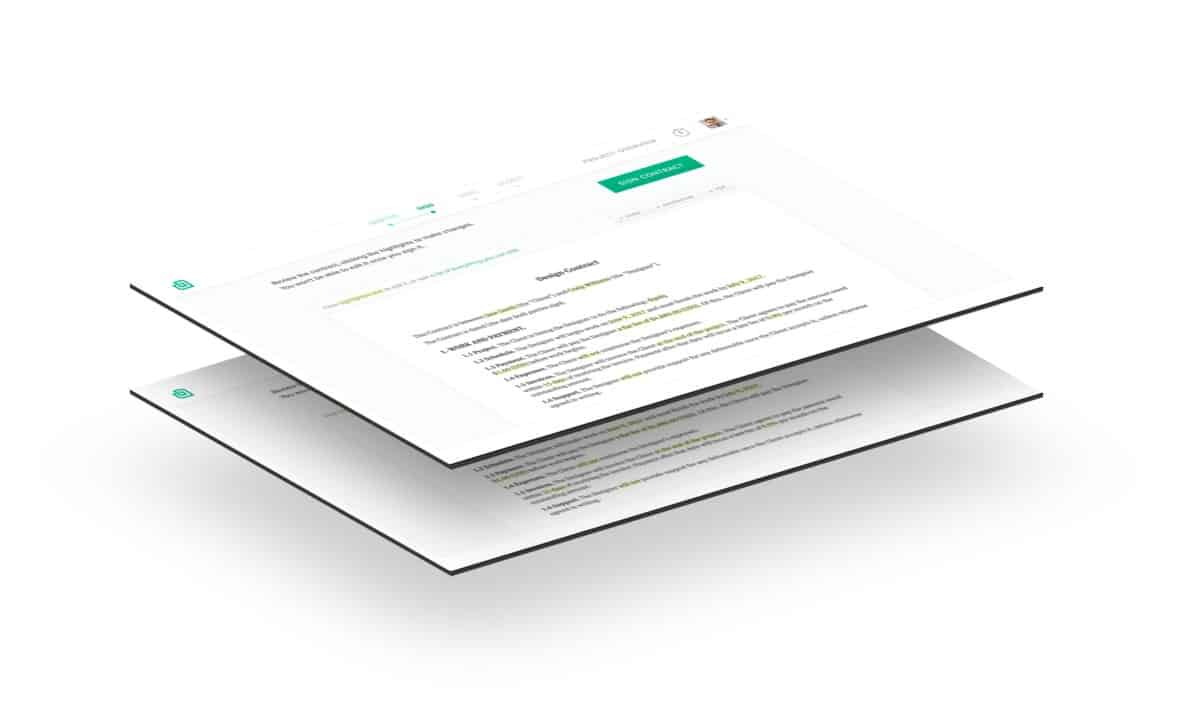 Much like with creating projects, simplicity is the name of the game when drafting contracts in Hello Bonsai.
You'll answer the same questions as you did for your project before you're taken into a contract creation wizard. Here you'll enter the basic details of the contract, such as what you're going to do, how much it'll cost the client, and the contract's length. You only enter the key facts and figures, which really speeds things up.
One thing we really like is that Hello Bonsai creates an automatic invoice as soon as you've entered the contract details. You can tell the platform to send the invoice automatically on the date of completion, or handle that yourself via the dashboard.
Finish up with the wizard and you end up at the finished contract.
…It looks nothing like the pages that came before.
Instead, this is a fully legal contract that incorporates the details you entered into the wizard. It's extremely detailed and covers every base that we can think of. But if you think it needs more (or less) you can edit it freely before sending.
It even changes the legalese up depending on where you live. However, the platform currently only creates valid contracts for Canada, the United States, the United Kingdom, and Australia.
A quick e-signature on your end is all it takes to send it on its way. The contract gets added to your dashboard, which updates when your client signs it.
Again, it's hard to punch any holes in this process. It's quick, easy, and results in a really detailed contract that the platform keeps track of.
Creating Invoices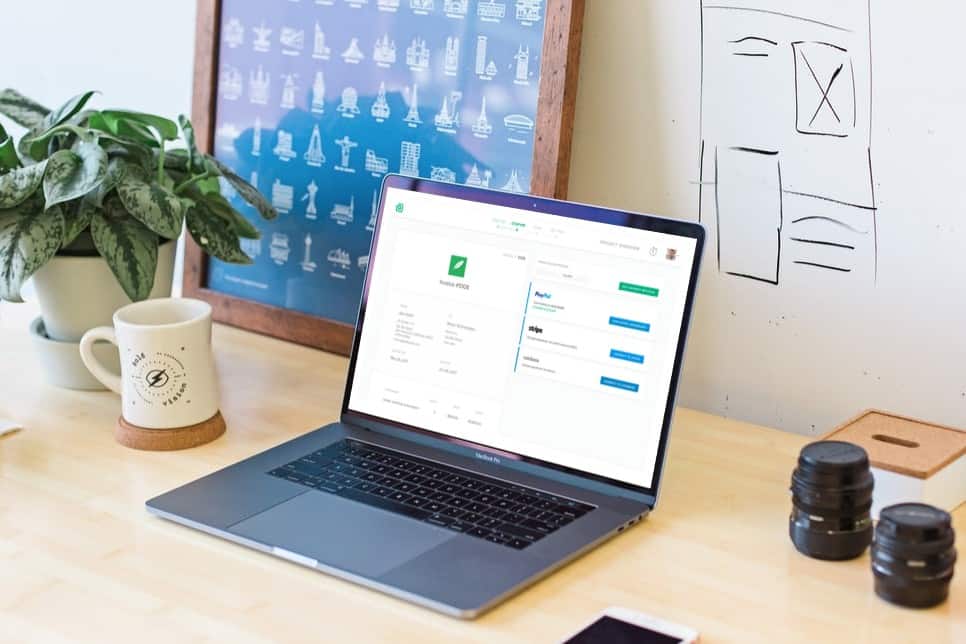 Like these mockups? We created them using our favorite mockup generator: SmartMockups.
As we mentioned, Hello Bonsai automatically generates an invoice upon creation of a contract. This is a good way to make sure you are paid faster. But there's also an invoicing dashboard where you can mess around with things yourself.
The platform allows you to create new invoices independently of your contracts. You can also edit any that you've already created.
Paid invoices go into their own section, as do outstanding and overdue invoices. You can even add your PayPal or Stripe account to the platform to allow it to process payments for you. With Stripe you can accept all major credit cards through your invoices. Again, it's all simple and well put together.
Time Tracking
But what if you're working on a more fluid project that doesn't have specific deadlines and payments?
Hello Bonsai appears to have you covered there too thanks to the time tracking feature.
Head into this section and you'll see a button for adding hours. Click it to choose a project and add some worked hours to it. You can even select who worked those hours if you have multiple people attached to the project and create different hourly rates.
On top of that, there's the little timer button at the top-right of the screen. Click that and Hello Bonsai starts a timer that records for as long as you're working. Another click stops it, after which the time worked gets added to the project.
If you click the timer accidentally, you can delete the unintended hours from the project too. Again, it's all smooth and simple.
The only issue we found here is that there doesn't appear to be a way for clients to keep tabs on this. That may not be a bad thing for you, but some less trusting clients may question your hours and the platform doesn't help you to prove how you spent them.
The Rest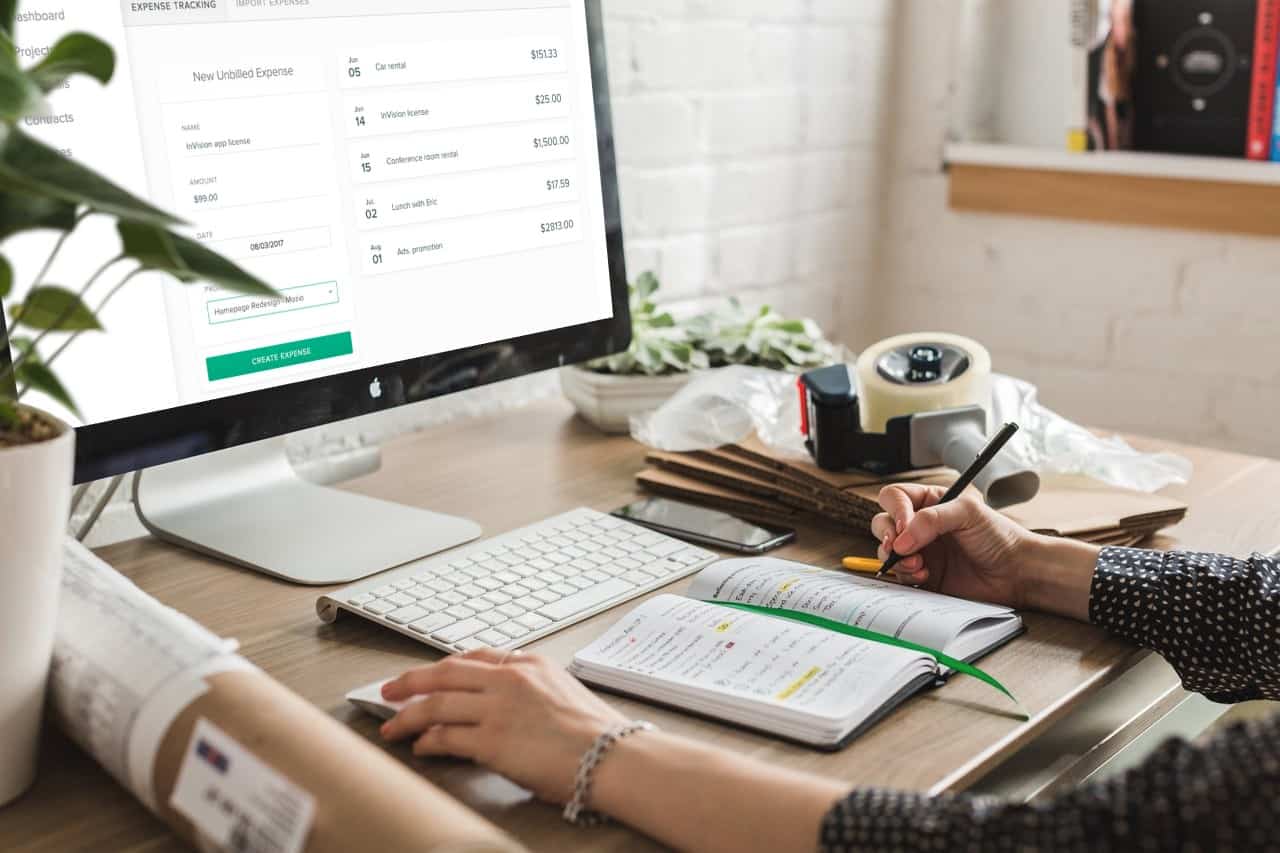 Hello Bonsai has a few other features that you may want to use.
The central dashboard offers a general overview of all of your projects. It's useful for quickly checking what's going on, with the notification ticker proving especially useful for show any recent changes made to the project.
There's also an "Expenses" tab. You can connect your bank account to the platform, but we think some may find this a little intrusive. Tracking expenses is a manual process, but you can add the results to the associated invoices automatically.
The "Clients" tab lets you add and delete clients as needed. You can also click on individual clients to check which projects you're working on for them, as well as their payment status for any invoices you've issued.
Finally, there's an "Accounting" tab, but that feature is currently undergoing development. But you can add a W-9 form if you head to the little profile tab in the top-right corner.
The Pros
It does an excellent job of keeping track of the various documents associated with different projects
It allows you to track the time you spend easily
Automated contract creation means you don't need to waste money on a lawyer
The language in the automatically-generated documents adapts to your country
Dashboard does a good job of giving you a general rundown of ongoing projects
Easy to get the hang off
The Cons
Contract creation tool has its limits
Currently not available in any language other than English
Time tracking feature doesn't capture evidence of your work
Final Thoughts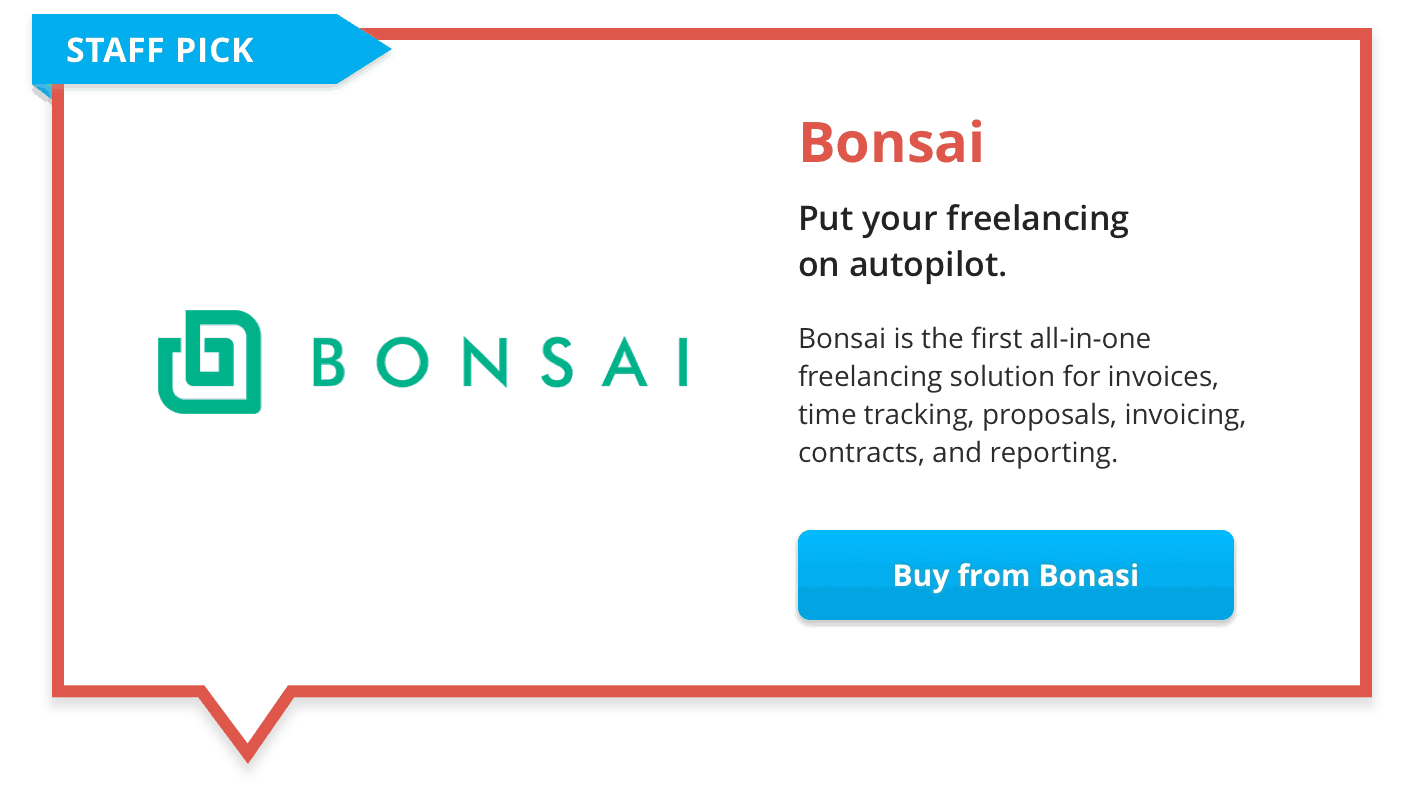 Hello Bonsai does everything that it says it will. More importantly, it manages to make everything seem so easy. You can have a project and its associated documents created in a matter of minutes. It also updates with client actions, as well as your own.
The only issues we found related to language settings. It's likely that Hello Bonsai will update for use in other countries eventually, but you're not going to get much use out of it if you're not in an English-speaking country.
But that's a minor quibble. This is an excellent platform that simplifies so much of the "busy work" associated with being a freelancer.
We recommended checking out the "Limited" version to see how it all works. You'll probably find that the time it saves more than outweighs the fees attached to the paid packages. You can sign up here.