Graphic design books are published at an alarming rate but not all of them are worth your time. Don't waste your time and cash on a book that repeats what you already know or doesn't delve deep enough into the topic. Instead, pick up one of these "must-haves" for your creative library. We've divided our list into five categories for easy perusal.
Books by Category
How did we choose the list? First I went to the graphic design section of three bookstores in Manhattan. Then I went home and looked at the books I had on my shelf. We also asked our email list of over 20,000 graphic designers for recommendations. Finally, I cross-checked the books in Goodreads and Amazon.
General History and Technique
1. 100 Ideas that Changed Graphic Design
Technical, stylistic, objects and methods are represented in this 100-entry reference. Authors Steven Heller and Veronique Vienne put together these ideas in chronological order for the readers' convenience.
2. Graphic Design Solutions 6th Edition
Students and veteran designers alike use this comprehensive reference by Robin Landa. A perfect supplement for designers that work primarily with print and screen media.
3. The History of Graphic Design: Vol. 1 (1890-1959)
See how graphic design has changed over the years in this stunning visual history. It includes an illustrated timeline for each decade as well as industry leader profiles and landmark projects.
4. The History of Graphic Design: Vol. 2 (1960-Today)
The historical journey through time with stunning visuals continues in this second volume. Students and professionals may use this as a reference or draw inspiration from ideas of the past.
5. Creative Workshop: 80 Challenges to Sharpen Your Design Skills
Part reference and part workbook, this "workshop" by David Sherwin helps you develop your design skills. Never let a tough design problem or deadline constrain your creativity again.
6. Megg's History of Graphic Design
Updated for the digital age, this reference book is one that every graphic designer should have on their shelf.
7. Steal Like an Artist: 10 Things Nobody Told You About Being Creative
Designers get inspiration from the most unlikely places. This book teaches you to embrace the influence around you with exercises, examples, and illustrations.
8. Graphic Artists Guild Handbook: Pricing & Ethical Guidelines (15th Edition)
A guidebook for freelance designers, this reference includes information on pricing, copyright registration, and more. Expand your design business like a seasoned pro with this indispensable all-in-one reference.
9. Know Your Onions: Graphic Design
Do you want a graphic design mentor at your fingertips? Author Drew de Soto gives you tips and knowledge as well as blank pages to tailor your reference book for your individual needs.
10. Creative Anarchy: How to Break the Rules of Graphic Design for Creative Success
Denise Bosler's book teaches you the rules of graphic design and the different ways to break them. In addition, there are sections specifically for designing posters, logos, publications, websites, and more.
11. House Industries: The Process Is the Inspiration
"Where do you find inspiration"? This book answers the question with a collection of stories, case studies, and lessons.
12. Grid Systems in Graphic Design: A visual communication manual for graphic designers, typographers, and three-dimensional designers
A must-have text for students and professionals alike on using grid systems and working on a conceptual level.
13. Junk Type: Typography – Lettering – Badges – Logos
A collection of postwar American typography and design from Bill Rose for any artist or lover of this aspect of American culture.
14. Graphic Design Visionaries
Fill your knowledge gap with personal stories and works from 75 of the most influential designers in the world. The book is arranged in chronological order so that you can see the developmental changes in design.
15. The Senses: Design Beyond Vision
Design can go beyond the visual. This book explores how sound, light, space, and materials can culminate in a sensory experience.
16. Design for the Real World
Victor Papanek's classic book on design has been translated into 23 languages. In this edition, he talks about creating responsible and sensible designs in a social context.
17. Show Your Work!
Creativity can come from anywhere. But getting noticed is another necessary step. Author Austin Kleon talks about how to get noticed and "findable" through self-discovery.
18. Layout Essentials Revised and Updated: 100 Design Principles for Using Grids
A fresh exploration of a classic and essential text. This book explores design principles and how to work with grids. The new edition includes updated text and photos as well as international graphics.
19. I Used to Be a Design Student: 50 Graphic Designers Then and Now
Find out what 50 graphic designers feel about their education and where they are in their profession. A rare peek into the world of graphic design, this book is filled with advice and warnings for anyone thinking about a career in design.
20. Creative Strategy and the Business of Design
Beyond creativity is the practicality of getting your business off the ground. This book by Douglas Davis strives to fill that void of business skills some creative thinkers may lack.
Graduates and Young Creative Professionals
21. Burn Your Portfolio: Stuff they don't teach you in design school, but should
Contains practical, real-world advice for succeeding in the professional world of design. Learn the professional do's and don'ts that took other design professionals years to acquire in this witty but practical guide by Michael Janda.
22. Don't Get a Job… Make a Job
When is it time to team up? Can you go it alone? Being creative doesn't mean one career path. This book explains your choices and what to do to forge your own path. A good option for both seasoned professionals looking for something new and new grads starting a career.
23. Oh Sh*t… What Now? Honest Advice for New Graphic Designers
Whether you're new to the design industry or a seasoned veteran, this irreverent guide can help. With straight talk about a variety of subjects from education to personal development, get insightful answers to important questions.
24. How to Be a Graphic Designer without Losing Your Soul (New Expanded Edition)
A perfect gift for the young professional just starting out. It's filled with practical advice and philosophical guidance for everything from setting up to collaborating with clients.
Typography and Lettering
25. Typographic Design: Form and Communication
Words communicate in different ways. And graphic designers know that typography can convey more than the words themselves. This book helps with everything relating to type.
26. Typography – Graphic Design in Context
If you want to know how to move past the traditional rules-based approach to typography, this may be a good option. It moves typography into a modern context with influences in medium, audience, and message.
27. A Guide to Graphic Print Production (3rd Edition)
Print work may be a dying art, but this specialization is not going away anytime soon. Specialists in print production may find this book informative.
28. Type: A Visual History of Typefaces & Graphic Styles
Spark a conversation with fellow letter lovers! This book gives an overview of over 300 years of typeface design and graphic styles.
29. Hand Lettering 201: Intermediate Lettering and Design Basics
Professionals and hobbyists can benefit from some extra typography inspiration. This book gives a basic overview of design principles as well as intermediate level lettering.
30. Bi-Scriptual: Typography and Graphic Design with Multiple Script Systems
Designs that translate into other cultures and across the globe can be a challenge. This book strives to help with the problem of using two or more writing systems and integrating them into visually stunning designs.
31. Mastering Type: The Essential Guide to Typography for Print and Web Design
Author Denise Bosler explores the essence of type and its relation to other elements. Filled with instructions as well as real-world inspiration and interviews, this book gives designers a different perspective on typography.
32. Never Use Futura (1st Edition)
Take a look at how Futura has seeped into cultural icons and historic moments. Anyone interested in reading about how typefaces convey meaning and become its own language may want to check out this book.
33. Typeset in the Future: Typography and Design in Science Fiction Movies
How do typography and design help sci-fi films transcend the screen? This book studies classic films to discover the inspiration and design tricks that made sci-fi movies so believable.
34. The Typography Idea Book: Inspiration from 50 Masters
Need a little letter inspiration? This book illustrates technical points without descending into jargon. Draw inspiration from the masters or gift it to your favorite creative designer.
35. Lessons in Typography: Must-know typographic principles presented through lessons, exercises, and examples
This book is part of Jim Krause's series, Creative Core design fundamentals. It takes the reader through typography basics for beginners as well as pros in need of a refresher course.
36. The Visual History of Type
A brief visual history of type since the advent of the first printing press to the modern day. Over 320 typefaces included with brief histories for each entry.
37. The Elements of Typographic Style: Version 4.0 (20th Anniversary 4th Edition)
This style guide is by renowned typographer Robert Bringhurst. This highly technical book has a wealth of information on layout and typography.
38. Typography Sketchbooks
A collection of explorations into typography by 90 of the world's leading typographers and designers. A must-have in any design enthusiast's collection.
39. Typography for Lawyers (2nd Edition)
For typographers who need polished documents. The right type isn't just for flashing advertisements. Designers that work with lawyers may find this book very informative.
40. InDesign Type: Professional Typography with Adobe InDesign (4th Edition)
If you use InDesign for print ads and such, you may want to add this book to your collection. Covering macro and micro typography and capabilities in the program, you can make the most of Adobe's toolset.
41. Better Web Typography for a Better Web
A book that specializes in better typography for website use. The casual voice and live code examples make this an indispensable resource for web developers and designers.
42. Thinking with Type: A Critical Guide for Designers, Writers, Editors, & Students (revised and expanded 2nd Edition)
A reference for those who use typography in their designs. Covering type from print to the web, this revised edition from Ellen Lupton is a great addition for anyone who works with words.
43. New Perspectives in Typography
An A to Z survey of who's who in contemporary typography. Includes examples from over 100 designers. Find your heroes or discover someone new.
44. The Art of Lettering: Perfectly Imperfect Hand-Crafted Type Design
Look into this fresh approach to hand lettering with examples from over 100 artists worldwide. These examples move away from traditional pen calligraphy using creative approaches and different approaches.
45. Drawing Type: An Introduction to Illustrating Letterforms
Inspiration and workbook meld together with this collection from well-known type designers. It features real-world projects as well as sketchbooks and interviews.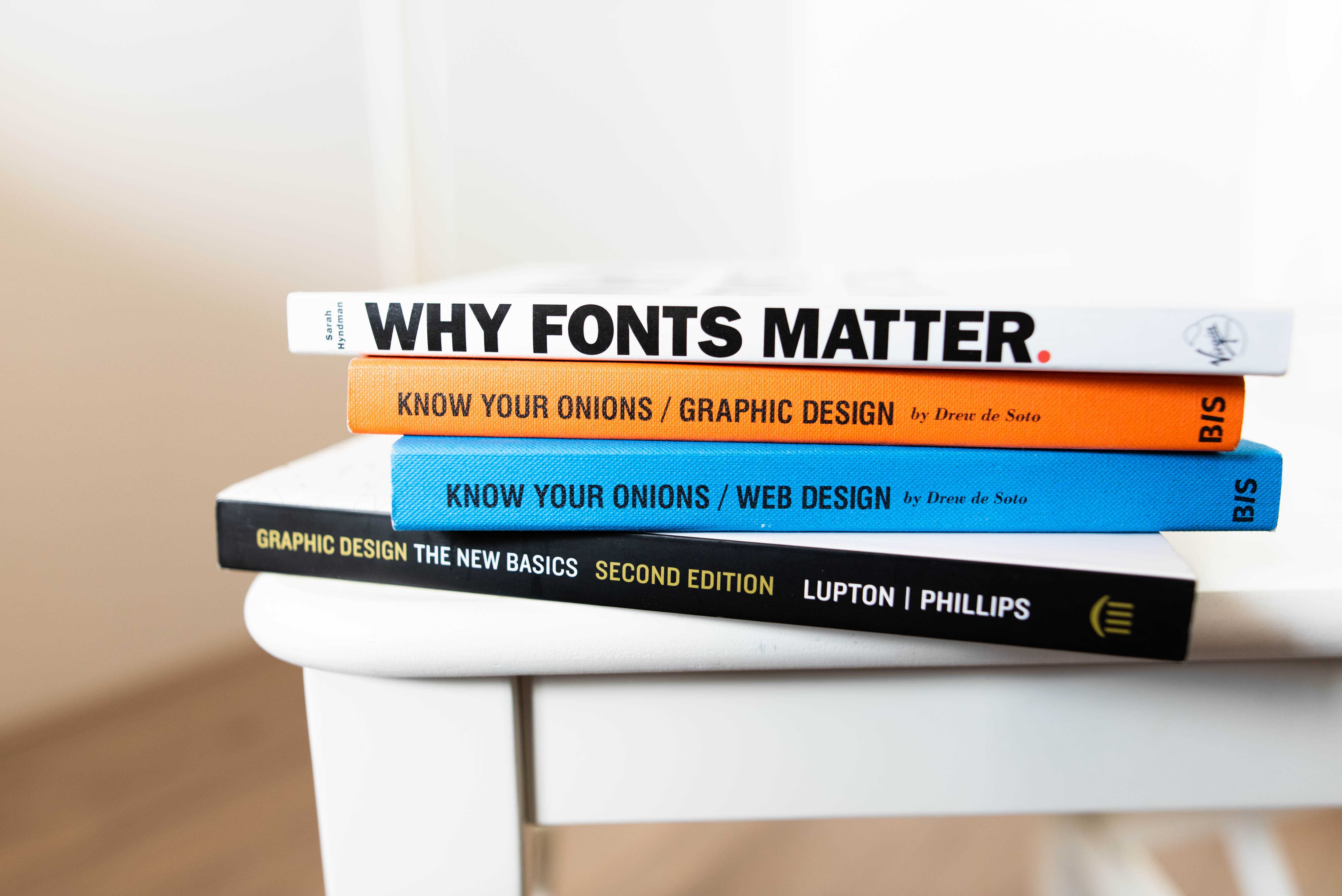 46. Why Fonts Matter
Understand the science behind fonts and how it can influence what you read as well as evoke different emotions. This book by graphic designer Sarah Hyndman talks about how her typographic research ties in with experimental psychologists and neuroscientists' findings.
47. Just My Type: A Book About Fonts
An essential addition to any word geek's library. Simon Garfield explores the world of fonts and seeks to answer some pressing questions behind the world's most popular fonts and its impact on what we read.
48. Type Matters
Available in leather bound and paperback versions, this new rule book covers crossover classic typography rules for layout designs on a computer.
Design & Decorative Arts
49. Draplin Design Co.: Pretty Much Everything
A survey of Aaron James Draplin's work. Includes case studies, road studies, advice, how-to's, as well as examples of his work.
50. The Moderns: Midcentury American Graphic Design
Profiles of over 60 designers that shaped and invented Midcentury Modern graphic design style in the United States.
51. Information Graphics
Learn how to express complex ideas effectively with the right images. Contains 200 graphics projects with over 400 examples.
52. Automobile Design Graphics
A visual history of over 500 automobile brochure reproductions. A great addition for designers in need of quick inspiration.
53. Pantone: The Twentieth Century in Color
Leatrice Eiseman and Keith Recker identify touchtone works and match them with official Pantone color palettes to show trends, shifts, and resurgences in color.
54. Design Elements: Color Fundamentals
Color goes hand-in-hand with design. And Aaris Serin's book helps designers communicate and integrate color into different design types.
55. Interaction of Color: 50th Anniversary Edition
Josef Albers' handbook on color theory principles may be old but the information is still essential. Covers color principles like color intensity, relativity, and temperature.
56. Things I Have Learned in My Life So Far (Updated Edition)
A noteworthy read for any designer, this book is filled with fascinating projects and insight from design genius Stefan Sagmeister. This book is one of three books that Sagmeister has out.
57. M to M of M/M (Paris): Fashion, Music, Art, Graphics, and Visual Styling from the Groundbreaking Design Studio
A monograph by Emily King of the famous design team Michael Amzalag and Mathias Augustyniak. It's part visual history and part inspiration for any designer's coffee table.
58. Super Graphic: A Visual Guide to the Comic Book Universe
In need of inspiration? Pick up a copy of this stunning visual guide to comics with some amazing and cleverly done infographics. Comic and designer geeks alike may like this clever guide.
59. How to Use Graphic Design to Sell Things, Explain Things, Make Things Look Better, Make People Laugh, Make People Cry, and (Every Once in a While) Change the World
Graphic designer Michael Bierut's monograph, design manual, and manifesto all rolled into one compelling book. Put it on the coffee table for a great conversation starter or inspiration.
60. The Designer's Dictionary of Color
A resource for designers who work with color. Cultural and historical context is included, but unfortunately, RGB values are only suitable for print.
61. Brand by Hand: Blisters, Calluses, and Clients – A Life in Design
A collection of stories, artwork, anecdotes and inspiration from renowned graphic designer Jon Contino. Find out what made this minimalist artist tick and what inspired him for some of his well-known works.
62. Champagne and Wax Crayons: Riding the Madness of the Creative Industry
Freelance illustrator and artist Ben Tallon's account of starting out in the creative industries and making a name for himself as a freelancer.
63. Newspaper Design: Editorial Design from the World's Best Newsrooms
Get inspired by newspaper designs of yesterday. This book features designs from the Guardian, the New York Times, and Liberation. Follow the artistic shift from print to digital art with visual examples of some of the best news designs.
64. Made in North Korea: Graphics From Everyday Life in the DPRK
Part visual history and part inspiration from this country that's shrouded in secrecy. From hotel brochures and luggage tags to packaging and tickets, this is an interesting addition to any designer library.
Logos and Branding
65. Branding: In Five and a Half Steps
Create a successful brand in five and a half simple steps. Using case studies and illustrations from current brands, this book helps readers create compelling brands.
66. Logo Modernism
A multilingual catalog of modern trademarks from 1940 to 1980s. Be inspired or do a little research for your branding project with logos from the past.
67. Logo Design Love: A Guide to Creating Iconic Brand Identities (2nd Edition)
Develop an iconic brand from start to finish with David Airey's guide. A good option for designers who work with businesses or those curious about doing so.
68. Logo-a-gogo: Branding Pop Culture
Part visual history and part coffee table staple, this book by Rian Hughes is a good source for inspiration and discussion.
69. Logotype (Mini)
A collection of over 1,300 typographic identities across the world. This handbook may be an indispensable resource for design studios that work on corporate and branding projects.
70. Designing Brand Identity: An Essential Guide for the Whole Branding Team (5th Edition)
Whether you're in charge of your design team or you need to rebrand your corporate identity, this book gives you the essential tools you need to see it done.
71. Start Me Up! New Branding for Businesses
Small businesses start up all the time. And they may make up the bulk of your freelance business. This book has copious branding examples to draw from. And an excellent addition to any designer's library.
72. Knife and Fork: Visual Identities for Restaurants, Food and Beverage
Corporate entities aren't the only ones that need the right branding. This book offers ideas and inspiration for your food and beverage branding clients.
73. Dynamic Identities: How to Create a Living Brand
Over 200 pages of insight into making dynamic identities. A good read for anyone who works with branding and marketing.
74. Creating a Brand Identity: A Guide for Designers
This handbook helps designers balance creative with marketing to design great brand identities. The book includes exercises and examples for creating successful brand identities, including creating mood boards, defining the audience, and analyzing competitors.
75. Identity Designed: The Definitive Guide to Visual Branding
Written by designer David Airey, this book helps formalize the process of brand identity design. It takes the reader through important steps like defining a strategy, conducting research, and developing touchpoints.

Final Thought
You may already have some of these books in your personal library. But as your needs change in your profession, so will your reading material. This list has made it a point to cover many creative professional needs.
Whether you're just starting out or you're a professional who wants to brush up on skills, there's a book here for you. And don't forget to check out the books on history and other designer works. Inspiration comes from many places. You never know if the next book you pick up can lead to your next big idea.
The Daily Logo Challenge is supported by readers. As an Amazon Associate I earn from qualifying purchases. If you click on links on our site it is possible we will earn an affiliate commission. This helps pay for the costs of the logo challenge.