Do you want to avoid typos and spelling errors in all your documents without hiring a proofreader? Well, that's exactly what Grammarly promises to deliver. And if you upgrade to a premium plan, it may even improve your style and diction.
To get started with Grammarly download the free version here.
Quick Links
But how well does Grammarly work? And how does the premium version compare to the free one? In this Grammarly review, we are going to look at both versions and note the key differences between them. Read on.

Grammarly Free
Features
AI-enhanced grammar, spelling, and punctuation checker
Browser, Gdocs, and MS Word integration
Personal dictionary
256-bit AES & SSL/TLS encryption for your documents
One user per account
Available on mobile
The free version of Grammarly checks spelling and grammar. More than detecting obvious mistakes and typos, it picks up more subtle errors that may elude the regular spellchecker, like commonly confused words or unnecessary commas.
Grammarly is more contextually aware than other spellcheckers. That's because it uses an AI system for detecting mistakes which proves very accurate. Even though it may erroneously flag words outside its built-in dictionary, as well as creative sentence structures, most of its suggestions are spot on.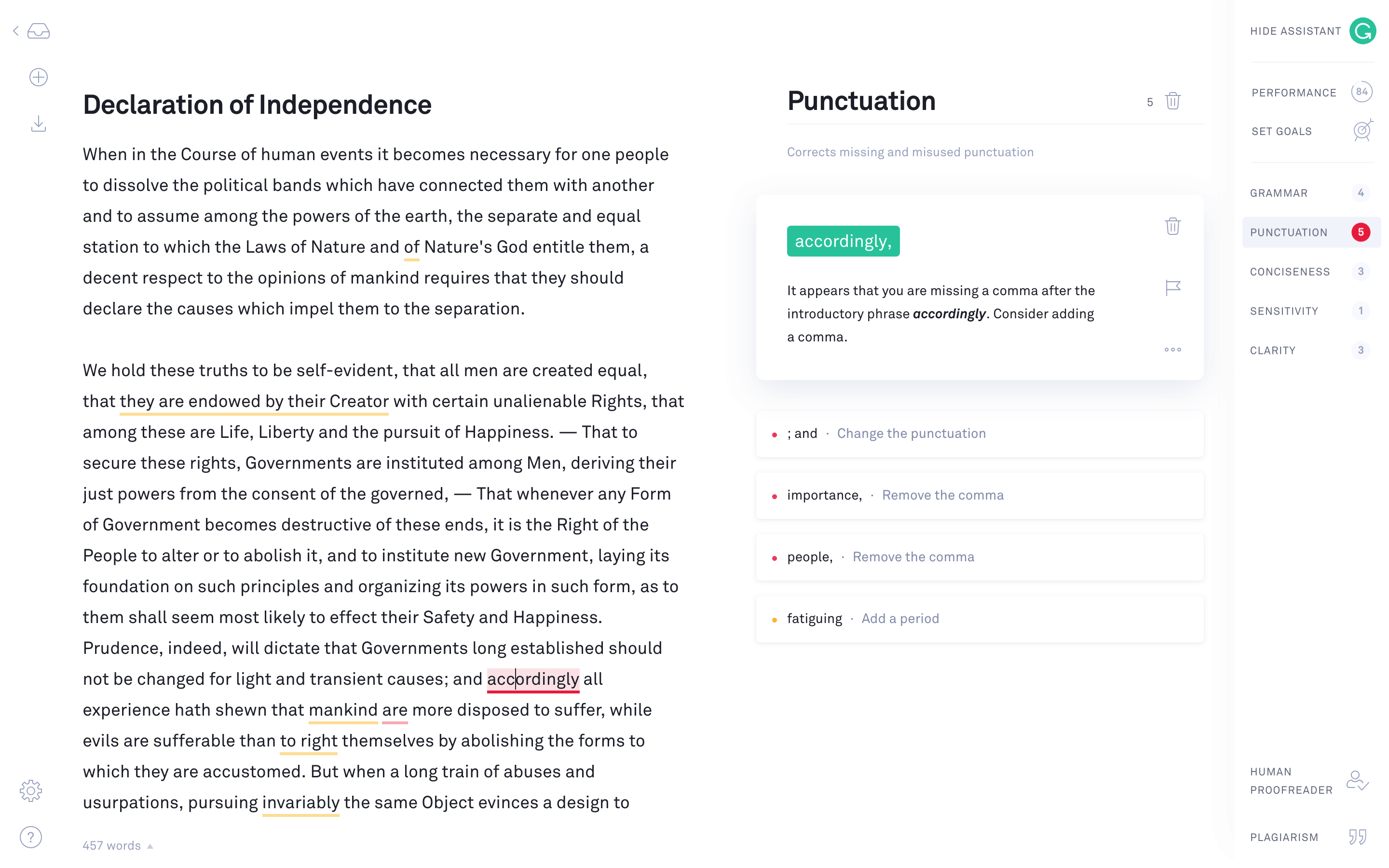 If you're concerned about privacy, you should know that Grammarly encrypts your documents using 256-bit AES & SSL/TLS. In other words, Grammarly doesn't get to see the content of your documents, which means that you can use it with work-related or personal documents.
Overall, the free version of Grammarly is a significant improvement over a standard spellchecker, proving to be a useful tool not just for writers, but for anyone who wants to improve their everyday writing.
Pros
Accurate suggestions
Checks match your writing goals
Includes a readability metric
Easy to use across browsers and devices
Integrates seamlessly into Word
Saves your recently reviewed documents, acting as a basic backup option
Lets you have the last word
Supports American, British, Canadian, and Australian English
Cons
No style suggestions
Only basic word usage feedback
The web app doesn't support advanced formatting
Grammarly Premium
Features
Advanced style suggestions covering word usage and sentence structure
Tone and formality-level checker
Wordiness and ineffective vocabulary filter
Built-in plagiarism checker
Inconsistent style checker
Human Proofreading Available (extra cost)
While the free version of Grammarly checks only spelling and grammar, the premium version offers style and vocabulary suggestions as well as a plagiarism checker which can be used as a Copyscape alternative. It helps you weed out overused words and identify wordy sentences so that you can write more clearly and consistently.
What's more, it can detect an inappropriate tone such as informal words in a formal document and non-inclusive language. This makes the premium version of Grammarly a valuable tool if you're concerned about the emotional appeal of your writing. Because of its versatility, the premium version could be just as useful for a creative writer as it can be for a business executive writing emails to other executives.

It also detects ineffective word usage, including weak verbs. This, together with style suggestions, can help make you a better writer. This is perhaps the main appeal of the premium version of Grammarly – it doesn't just correct your writing and helps you filter out repetitive mistakes so you can achieve concision and clarity. And, of course, because of its many integrations, you can use it on just about any device and take it with you on the go.
The premium version of the tool also allows you to submit your writing to a human proofreader for review. This feature has an extra cost and depends on how fast you want the turn around to be. It is only available to premium users.
One thing to note is that Grammarly works best when the tone of your writing is consistent. For example, mixing formal and informal writing styles in the same document, which may easily happen in a creative piece, may confuse it.
The paid version of Grammarly is available under two different plans:
Provides advanced writing feedback and a plagiarism checker for one user only.
Grammarly Business – starting from $15/month per member
Provides all the features of Grammarly Premium for up to 100 team members, including individual accounts, team usage statistics, and priority email support.
Because there's no difference in the actual writing detection features you get with Grammarly Business compared to Grammarly Premium, the only reason to choose the former is to make it available to a team. However, for many small businesses without a marketing team, Grammarly Premium can be enough.
Pros
Style checker can make you a better writer
Makes your writing sharper and clearer
Spot-on vocabulary suggestions improve your diction
A built-in plagiarism checker can help you speed up the publishing process
Cons
Better for certain types of writing than others
Some suggestions may prove repetitive
The Verdict
While the free version of Grammarly is a useful grammar checker and spellchecker that can substitute a human proofreader, it's the premium version of Grammarly that provides real value. With its advanced style suggestions and tone detection, it can actually show you how to become a better writer. It helps you focus on problem areas and address recurring mistakes.
With Grammarly Premium, you can save money on professional editing services. While it's not a replacement for an actual editor, it's the most advanced tool of its kind. It does what it claims to do and provides enough value to make it a powerful aid not just for professional writers, but for anyone wishing to write better.
The bottom line of this Grammarly review – if you want more than a proofreader but don't need an actual human editor, the premium version of Grammarly has you covered.