Solid graphic design and visuals play a large part in a business' success. Your branding and design elements help make your company recognizable and memorable. Logos, brochures, and even the right type of font send a message to potential clients.
So, having the right design is integral to your business. But how do you go about designing the proper graphics? And what tools are available?
Keep reading to discover the top 10 design tools on the market. Whether you're a graphic artist or a small business owner, these are the tools that can help your vision come to life. So check out these reviews and see which one works best for your needs.
Hey, Wait! If you're serious about graphic design you need the Adobe Creative Cloud with Adobe Illustrator and Adobe Photoshop (here is the cost). If you want to create user interfaces it might be smart to learn Sketch, Invision, or Figma. If you're a super casual designer (think social media manager) read on for Canva and it's competition.
Canva
Don't have any design experience? No problem. Canva makes it easy for your artistic vision to come to life. It features a simple user-friendly interface that even beginners can appreciate.
Features
Use Canva for a variety of your visual design needs. Whether you need something for print materials or web headers, this program has you covered.
Canva also has templates for every occasion. With over 50,000 to choose from, it's simple to find the perfect one for your graphical needs.
You can also drag and drop icons into any Canva template. Customize your projects further by choosing an icon from Canva's extensive library.
In addition, Canva also has a large collection of stock photos to choose from. Search through the millions of high-quality photos. Premium photos are only $1 to use, so go ahead and splurge when you find the perfect image.
Business may benefit from additional features such as:
Add your brand kit or build one for a consistent look
One-click sizing for posting images on social media sites
Shared folders for easy team collaboration
Create and download images with transparent backgrounds
From office documents and marketing materials to creative projects and social media posts, Canva is a great option for many of your design needs.
Furthermore, if you're looking for mobility in your design app, Canva isn't available at your favorite app store. But you can go to their website and input your phone number and they'll send you a link to download the app.
Pricing
Canva is free to try for individual use. The free version has limited accessibility but there are enough features to get you started:
2 design organization folders
1Gb storage
Upload your own images
Access to over 8,000 templates
Photos start at $1 each
Canva for Work
Canva also has plans for small businesses. Sign up for the 30-day free trial. After the trial period is over, you can choose their monthly plan for $12.95 a month. If you'd rather save money, sign up for the yearly subscription for $119.49, which breaks down to $9.95 a month.
Canva for Work membership includes:
Unlimited design folders
Unlimited storage
Exclusive access to 400,000 free templates, photos, and icons
Download designs with transparent background
Team functionalities
Priority support
Furthermore, Canva offers free subscriptions for non-profit companies. Check out their website to apply for free Canva access.

Canva vs. Stencil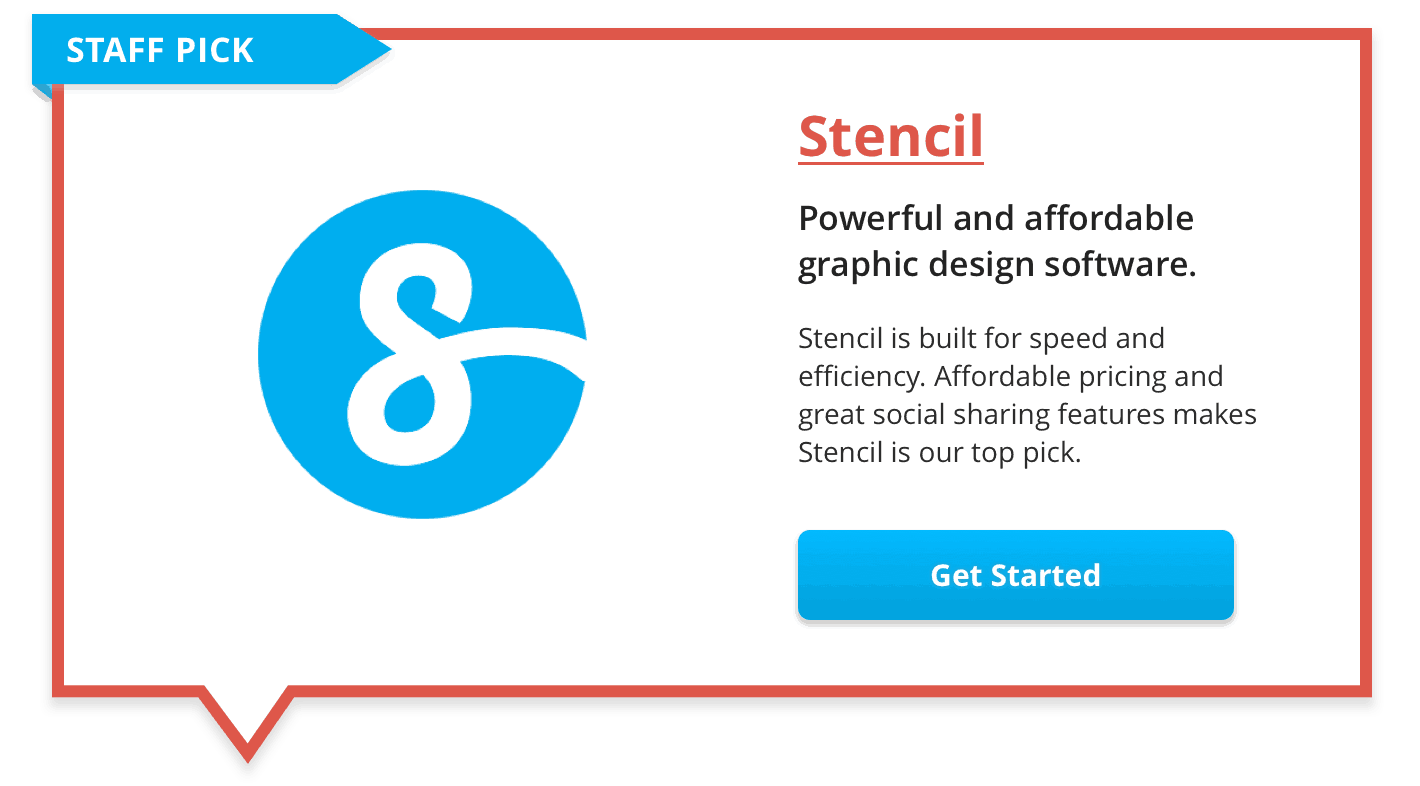 Virtual design and visual presentation is everything when it comes to your online presence. So if you need a design editor to make your social media posts, blogs, presentations, and emails stand out, Stencil may be a good option.
Stencil also has extensions for popular browsers such as Safari, Chrome, and Firefox for easier access. In addition, if you have a Buffer account, you can schedule times to share any image you create.
Pricing
Stencil offers a free account that comes with 10 images per month with limited icon and photo access. Keep up to 10 of your favorite designs with Stencil's free plan. Canva, on the other hand, doesn't limit your design count.
Stencil also has upgraded plans at $15 per month and $20 per month for the Pro and Unlimited plans.
Additionally, although Stencil offers a 7-day money-back guarantee, the membership plans are for only one user. And it doesn't support team collaboration the way Canva does.

Canva vs. PicMonkey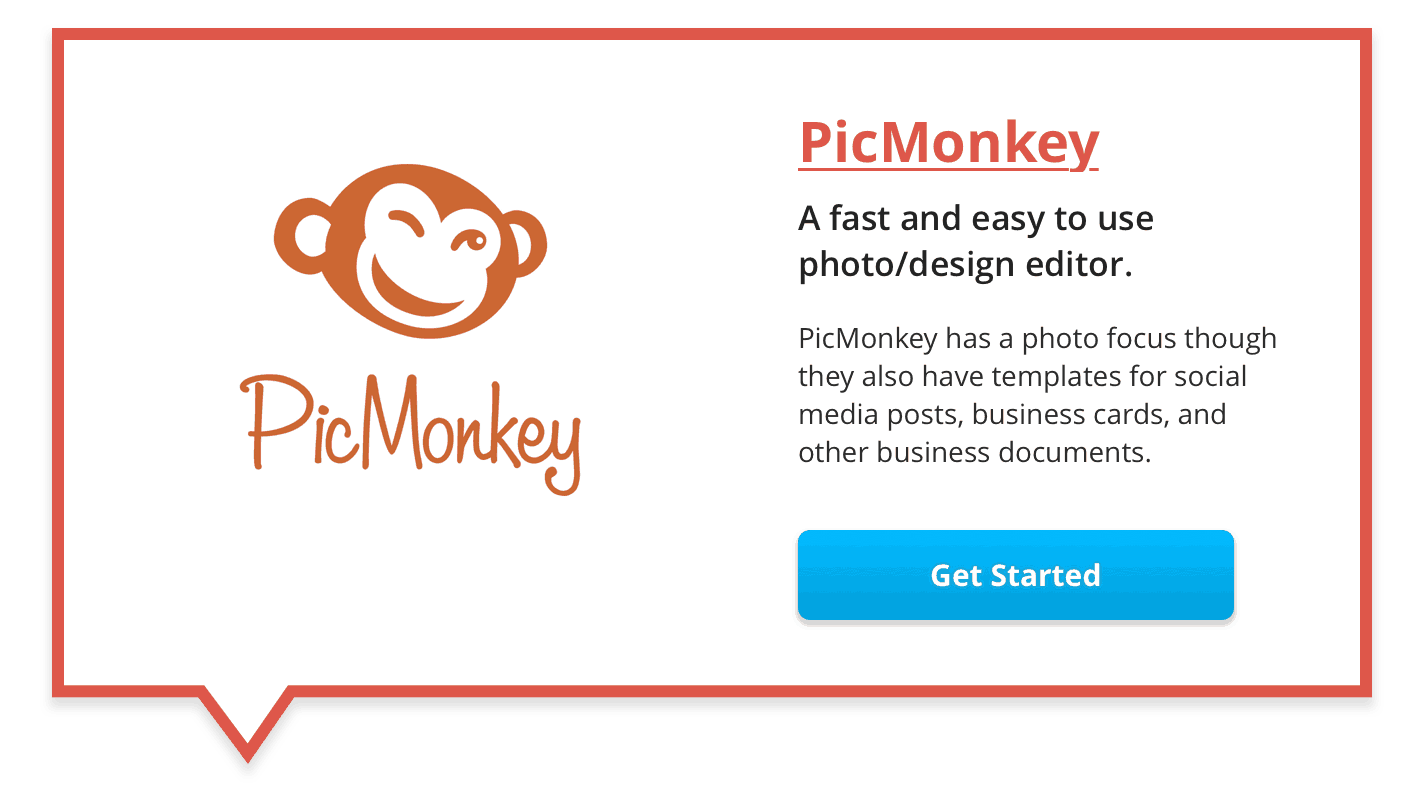 PicMonkey is another popular design tool. Like many other design tools, it offers template customization, photo editing, and document design. With over 3,000 graphics, 200 fonts, and 100 textures, PicMonkey is another popular tool to bring your creative vision to life.
While PicMonkey is great for editing photos, Canva has more flexible design options. With plenty of pre-built designs and templates to choose from, it's easy to get started with Canva.
Pricing
PicMonkey offers a free trial as well. But unlike Canva, their trial is only for 7-days. PicMonkey also doesn't have a free version of their app. Their first-level plan starts at Basic for $7.99 a month, or $71.88 per year.
The Basic plan covers 1 GB of hub storage, export files, and access to primo effects, touch-up tools, and templates. However, if you're looking for team collaboration, you may need to bypass both the Basic and Pro plans and jump to the Team plan.
At $10.99 per month, per seat, this is the plan you need for PicMonkey access for your entire team. But there is a 3-seat minimum to sign up for the plan. And while you do receive a 17% discount for all the Pro features, you still don't have team functionalities integrated into the app.

Canva vs. Pablo by Buffer
This free app is a design tool and photo editor. If you want to tweak images and give your social media posts a facelift, this app may be all you need. As the name suggests, it also works hand-in-hand with Buffer to create and schedule your postings from one convenient place.
However, if you don't have a Buffer account and don't plan on getting one, you may find that this app has limited uses for you. You can still do basic things like customize templates, images, fonts, and filters. And you can download your creations. But feature-wise, it's relatively limited because its real strength is in its integration with Buffer.

Canva vs. Piktochart
Piktochart is a design app that specializes in creating and customizing infographics. Make presentations, flyers, and reports stand out with the right visual impact. Its user-friendly interface makes graphic design as easy as dragging and dropping into a customizable template.
Pricing
Pricing plans start at $12.50 per month, or $150 a year, for the Lite Plan. The Lite packages only include access to templates and 100MB of image uploads. On the other hand, Canva offers unlimited image uploads in their free plan along with 1 GB of storage.
Further upgrades are also available. The next tier is Pro for $24.17 a month or $290 per year. However, if you're looking for something for your business, the PRO Team package may be the one to look at. The pricing depends on the number of team members using it. But you can add up to 25 users.
Like Canva, you have team collaboration features and project sharing options. However, Piktochart is much pricier, and they haven't finalized all the features yet.

Canva vs. Snappa
Snappa may be a viable design option for some people. With a full library of images and templates to choose from, it's easy to see why this design software is popular. Small businesses can also benefit from Snappa with its easy sharing and collaboration features.
However, Canva has additional features that Snappa does not, such as a color palette generator, photo editor for uploaded images, and the ability to make font combinations.
Pricing
Furthermore, while both design apps offer a free version, Canva doesn't have download limits with their free plan. Snappa, on the other hand, limits you to 5 downloads and 2 social media accounts.
Upgraded plans for Snappa include the PRO plan for $10 a month for one user and Team plan for $20 a month for up to 5 users. Meanwhile, going with Canva for Work costs $12.95 per month per team member.

Canva vs. Photoshop
Photoshop may be the leading photo editor by market share, but how does it hold up against Canva? Even though everyone knows about Photoshop, not everyone can use it right away. Its steep learning curve may require a separate class for beginners to get a handle on the program. Alternatively, Canva is very user-friendly so that beginners with no design experience can jump right in.
Remember that Canva has pre-made templates. Along with it being a time-saver, it can also help newbies who don't know where to start at first. And it's less intimidating than looking at Photoshop's blank canvas.
Pricing
Photoshop CC pricing starts at $20.99 per month with an annual subscription. This price includes access to Adobe Spark, Adobe Portfolio, Adobe Fonts, as well as 100GB of cloud storage.
However, for business use, you have to go with a license purchase of $33.99 a month for an annual subscription. The license includes team collaboration features such as syncing and sharing. But this may be more or less expensive depending on how many team members will be using the program.

Canva vs. Illustrator
Illustrator may be the industry standard for graphic designers. But for the average person, it may be too technical to use. Canva's simple drag-and-drop interface makes designing images and materials a snap. And you don't need a degree to do it.
Adobe Illustrator may give you more control over certain design elements. But you need to know something about design to use it. For example, Canva has pre-built templates to choose from. But Adobe Illustrator forces you to make your own templates. While that may not be intimidating for a graphic artist, it may be hard for the average small business owner to simply create new flyers.
Pricing
Like Photoshop, you can purchase Adobe Illustrator as a single app for $20.99 per month. If you need a business license, it's $33.99 per month with an annual subscription. Adobe suite apps may also be more cost-effective if you buy a bundle of products.
However, you or someone on your team may need to take point with using the software. It's not easy to simply start up and go. So you may need to watch a few tutorials or take a quick online class to understand the essentials of what the program can do.

Canva vs. Designbold
Designbold and Canva work on a similar premise. You pick a template and customize it. Both have reasonably user-friendly interfaces with a drag-and-drop design for most of the creative elements.
Pricing
Both Canva and Designbold offer free app versions. But Designbold requires you to buy their On Demand Coins to download high-definition stock photos, vectors, and images.
The coin packages are available in bundles starting at $39 which may make it inconvenient to simply buy as needed the way you can with Canva. In addition, you need these coins to use any stock photos outside of Designbold's image storage.

Canva vs. Visme
If you need animations in your presentations and infographics, Visme may be a good choice. It specializes in creating interactive media. But for some of you, that may be unnecessary.
If the majority of your design elements are documents like newsletters or reports, Visme may seem excessive. After all, you don't need the ability to insert audio voiceovers in a written report. Nor do many people need the ability to insert third-party media like videos into their flyers.
Canva, on the other hand, offers design elements that cover a broader range of uses. Visme's interface may not be as beginner-friendly as Canva's, too. There are so many elements to learn, and it may not be intuitive for a lot of people.
Pricing
The first two Visme plans, Basic and Standard, limit the number of projects you can work on at one time. The Basic plan is free to use, but you are limited to only 100MB of storage and limited template access. You also can't create folders with the free plan.
Alternatively, Canva allows for 1GB of storage and gives you 2 folders to organize your projects. At the upgraded level, Visme's storage jumps up to 250MB. But that's hard to stack up against Canva for Work's unlimited storage feature.
Branding features are also locked unless you pay for Visme's Complete package for $22 per month with an annual subscription.
Furthermore, team collaboration and functionality isn't available unless you upgrade to the Team plan for up to 3 users. The Team plan starts at $66 per month, annually, which is pricier than the Canva for Work plan at $12.95 per team member, per month. But it may be worth the extra cost if you tend to use more infographics, animations, and audio in your designs.
Final Thought
There's a reason why Canva remains a leader in user-friendly design tools. You can design different types of projects with Canva, from business reports to mommy blogs. And you don't need design experience to use it.
If you want the ease of creation for even those with limited design experience, check out the Canva website. Try out the free app or the 30-day Canva for Work business trial. Why spend money on a graphic designer when you can give your marketing materials an overhaul yourself?