Keyboards don't always get as much attention from designers and developers as mice do. But whether you're designing digital products or developing apps, the right keyboard can improve your productivity and eliminate some repetitive commands. What's more, it can help you avoid the strain that comes with using a keyboard that's bad for your wrists for hours every day.
Let's take a look now at the four best keyboards for designers and developers and understand the key differences between them. These top performers will make you want to upgrade your keyboard right now.
1. Kinesis Advantage2 KB600
At first glance, Kinesis Advantage2 makes you pause and question its design. But then you realize that it's made to keep your wrists fixed while you use it. The best part? The super-ergonomic design actually works. If you're worried about (or suffering from) repetitive strain injury or other wrist-related condition, this Kinesis Advantage2 can be a lifesaver.
But it's not just about the ergonomics. This keyboard comes with advanced built-in key remapping and macro functions powered by the SmartSet Programming Engine. Thanks to this engine, you can easily program and customize keys without having to install additional software. You get a whopping 48 programmable macros, which puts many gaming keyboards to shame.
What's more, the low-force keys provide excellent tactile feedback, making this one of the best keyboards for designers and developers who write their own code. If you've never used a Kinesis keyboard before, you may need some time getting used to the layout, but after that, you'll be fast on your way to designing more every day.
Features
Contour design for comfort
Mechanical function row keys
SmartSet Programming Engine
48 programmable macros
Pros
Great ergonomic design
Looks the part
Excellent macro features
Cons
Bulky compared to other keywords
Not so easy to transport
Getting used to the layout may take a while
2. Logitech Craft with Creative Input Dial
Developed with Adobe's creative suite of apps in mind, Logitech Craft is a quiet and responsive keyboard that works equally well on Windows and Mac. Its key feature is the Crown, a creative input dial in the top left corner of the keyboard whose function adapts to the Adobe (Photoshop or Illustrator) or Office app you're using. It allows for finer controls than your mouse. You can use the dial to zoom in or out, adjust the size of the brush, create charts faster, and more.
In addition to the dial, you'll also like the smooth, minimalist design of the keys and the elegant backlights, which turn on when you start typing and adjust depending on light conditions in the room. The battery won't disappoint you either – this keyboard can keep going for a week on a single USB-C charge. To boot, Logitech craft has a 10-meter wireless range.
Features
Crown input dial for fine-tuning settings
Adapts to the app you're using
Backlit keys with motion sensor
Lasts one week on a charge
Compatible with both Windows and Mac
Pros
Creative dial allows for finer controls
Perfect for creative Adobe apps
Fluid typing
Inspired graphite design
Cons
Not ideal for left-handed users
3. Loupedeck+ Editing Console and Keyboard
The new and improved Loupedeck, an old favorite of graphic designers and web developers, gives you full control over Hue, Saturation, Vibrance and a dozen other controls. It's compatible with Adobe Lightroom, Adobe Photoshop, and Skylum Aurora HDR. Loupedeck+ comes with a big control dial which gives you the precision you need sometimes to make a photo just perfect.
The Loupedeck+ is more of a console than a keyboard. But it's because of its seventeen customizable mechanical buttons that it stands out. You can use it alongside another keyboard when needed, or even better, combine it with a mini keyboard to save space.
When you work with a large number of files and need to tweak and adjust them fast, Loupedeck+ can make a big difference. It keeps your eyes on the screen and reduces the number of clicks you have to make. Few keyboards can help you save more time than this one.
Features
Mechanical keys
Works on Mac and Windows
Control dial for fine controls
Seventeen customizable buttons plus two dials
Fully mechanical buttons
Pros
Very precise
You can customize any button
Before / After button makes comparisons easy
Works great with Photoshop
Cons
You need to plug this one in
4. DeLUX Mini Designer T11
DeLux claims that this mini keyboard can help you design up to 80% faster. When you design you don't necessarily need all the keys of a full keyboard, and the DeLUX Mini Designer T11 does away with most of them. It packs just the essential ones and a useful dial. Similarly to Logitech Craft's Crown, you can use the dial to adjust parameters like opacity, zoom in or out, or play with different brush sizes.
This works with all the major design apps and supports computer-aided design and drawing-tablet apps. Indeed, the space you can save with the DeLUX Mini leaves plenty of room on your desk for a graphics tablet and possibly a designer console as well.
The tactile feeling of the keys won't let you down either. Also, you'll like the premium-looking aluminum finish and the backlit modes. Last but not least, the custom shortcut keys can further speed up your work.
Features
Mini design
Multifunctional smart dial
Compatible with popular design apps
Customizable shortcut keys
Mechanical key switches
3 backlit modes
Pros
Makes fine adjustments easy with the dial
Saves space
Works great alongside a drawing tablet
Premium aluminum finish
Cons
A bit harder to keep clean because of its design
Easy to damage when cleaning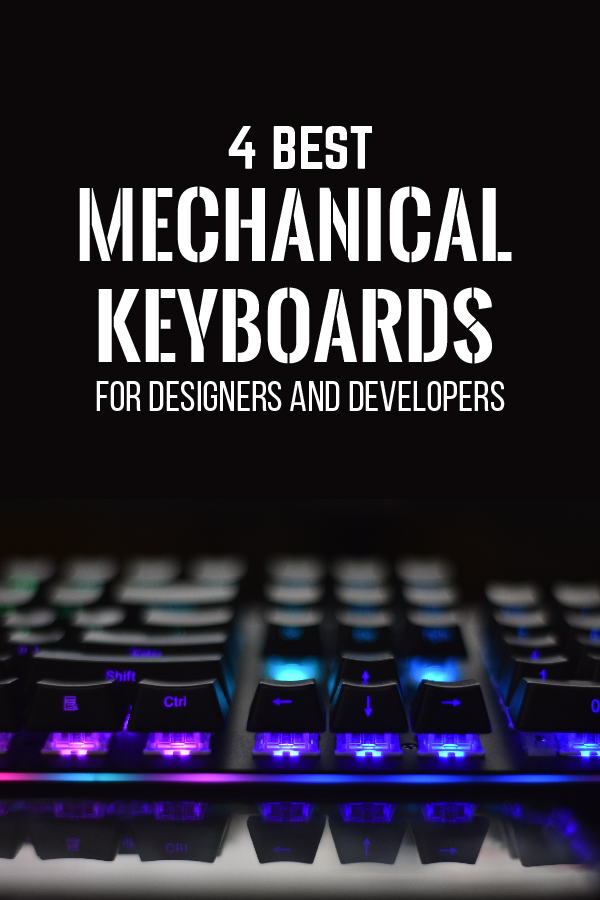 The Wrap Up
The best keyboards for designers on this list can remind you just how important it is to have a great keyboard. More than speeding up your workflow and streamlining repetitive commands, they enable you to work without strain.
But which should you choose? It all depends on what you need. While the Kinesis Advantage2 takes ergonomics to a whole new level, the Logitech Craft and the Loupedeck+ use control dials and other buttons for maximum precision. Similarly, the DeLUX mini, while a newer and less known entry, offers a fresh new take on mini keyboards.
Whether you're a designer or developer, you won't go wrong with any of these great mechanical keyboards.
The Daily Logo Challenge is supported by readers. As an Amazon Associate I earn from qualifying purchases. If you click on links on our site it is possible we will earn an affiliate commission. This helps pay for the costs of the logo challenge.