The first-generation Apple Pencil was released in 2015 and made a big splash in the design world. Any designer that worked on an iPad was eager to get their hands on one and it was a very successful product.
Three years later, Apple released the second-generation Apple Pencil and it managed to convert even the most skeptical users. Here, we'll break down the differences between the two and how they stack up against each other.
For convenience, we'll refer to the first-gen as Apple Pencil and second-gen as Apple Pencil 2.
From a conceptual standpoint, this review won't aim to convince you that one Apple Pencil is better than the other. That would be an exercise in futility since there are three years of advances from one generation to the next.
In terms of functionality, convenience, and technical specs, the Apple Pencil 2 is clearly better. However, that doesn't mean that the first-gen Pencil is completely obsolete. It's still being sold by Apple and there is still a healthy demand for it.
When you've read through this review, you'll realize that there's more to this comparison than just which one has more features. And the best way to start illustrating that is by looking at what each of them costs.
Price
The actual price of the Apple Pencil and the Apple Pencil 2 doesn't change too much. The second edition is often 15–25% more expensive.
More important is what iPad you want to use it with. It depends on which iPad you have because each Pencil is only compatible with some iPads.
Apple Pencil Compatibility
iPad Air (3rd generation)
iPad mini (5th generation)
iPad Pro 12.9-inch (1st or 2nd generation)
iPad 10.2-inch
iPad Pro 10.5-inch
iPad Pro 9.7-inch
iPad (6th generation)
iPad (7th generation)
Apple Pencil 2 Compatibility
iPad Pro 12.9-inch (3rd gen)
iPad Pro 11-inch
If you don't have an iPad at all and want to buy one with a pencil, it will be significantly more expensive to buy the Apple Pencil 2 because it requires an iPad Pro.
Design
In terms of the design, Apple Pencil 2 has quite a few differences from its predecessor. For starters, it's slightly shorter at just over 6.5 inches, which many people find to be closer to a traditional pencil.
The weight is also closer to that of a pencil and it has a flat surface as opposed to the Apple Pencil's entirely round body. This prevents it from rolling on flat surfaces and also feels better for many users who are used to hexagonal pencils.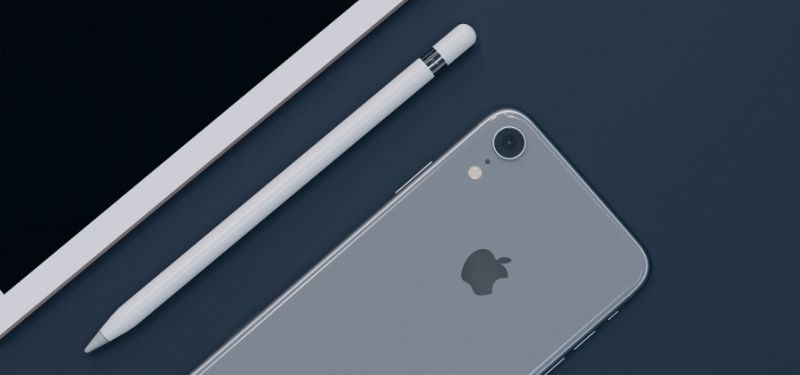 In keeping with the pencil feel, the Pencil 2 has a matte finish, unlike the Pencil's glossy surface. This makes it both easier to grip and less prone to collecting fingerprints and natural oils.
Both of the Apple Pencils weigh the same (20.7g) and have the same diameter (8.9mm). For most users, that will be perfectly usable but others may find it to be quite small. If you're one of those, you can always use one of the many grips on sale that will make it slightly thicker and easier to hold.
Finally, and this is a minor point, if you purchase the Apple Pencil 2 from Apple's website, you can personalize it with an engraving for free. Sadly, this isn't available for the first-gen pencil.
Charging and Battery Life
The element that most stands out in favor of the Pencil 2 is that it charges wirelessly on a compatible iPad Pro. The pencil can be attached magnetically to the side of the device and both pair and charge.
A big gripe that people still have about the Apple Pencil is that it had an awkward lightning connector on the end for charging. It always seemed precarious to connect the Pencil to an iPad for charging because it could (and in many cases did) suffer damage from shifting and jostling while connected.
The lightning connector also has a cap that is prone to becoming misplaced as it's quite small.
In addition to being easier to charge, the Pencil 2 is easier to keep track of as it's always attached to your iPad. The one advantage that the Pencil has, in this case, is that it can charge independently of an iPad with an adapter.
Fully charged, the Apple Pencil has about 12 hours of battery life. You can also do a quick charge for 15 seconds that will give you 30 minutes of use. The Pencil 2 has about the same battery life, but the point is almost moot since it will always be charged so long as you have it with your iPad Pro. So, unless you're going on a 13+ hour drawing binge, it really doesn't come into play.
Performance
This is one area where there's no real difference between the two Apple Pencils. The pressure that they require is about the same, although it hasn't been confirmed by Apple, and they both have tilt, yaw, and roll detection.
They also both feature palm detection. When the stylus is touching the screen, or close enough to be detected, placing your palm on the iPad screen won't register as a gesture.
The sampling rate on both models is the same and the refresh rate on the screen is similar across iPad models. That basically means that you won't notice a difference in response and feedback.
There is one small edge that the Pencil 2 has in performance and that's gesture detection. In short, the Pencil 2 detects two taps anywhere on its surface as a button press. This gesture can be bound to various functions within compatible Apple applications, making tasks such as drawing and erasing much more streamlined.
Tips and Tricks
If you do decide to buy either Apple Pencil, here are a few little tips to keep in mind when you start using it.
How you hold the pencil matters – you can tilt it to draw wider lines or hold it upright to draw bold lines, just like a real pencil.
You can check the battery life remaining on your Pencil from the iPad's Notification Center as long as it's paired.
The tip of the Pencil doesn't have to physically touch the screen to register on it, as it only needs to be close enough to be detected. That means that you can trace on your iPad through a standard piece of paper.
The Daily Logo Challenge is supported by readers. As an Amazon Associate I earn from qualifying purchases. If you click on links on our site it is possible we will earn an affiliate commission. This helps pay for the costs of the logo challenge.